Bal Harbour | The Dream Village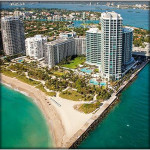 Celebrating its sixtieth anniversary in 1996, Bal Harbour Village remains a pristine community, a carefully designed haven for the very best in residential living and upscale tourism. With elegant homes and condominiums, elite shops and exquisitely manicured roadways, the Village is widely recognized as the jewel in the crown of South Florida's communities – a model for the good life.
The vision for this subtropical paradise began in 1929 when Miami Beach Heights, a Detroit-based real estate development corporation purchased the raw land. Headed by industrialist Graham with associates Carl Fisher and Walter O. Briggs, Miami Beach Heights began the task of crafting a new community. Perhaps most significantly, they hired one of the leading urban planning firms of the twentieth century – Harland Bartholomew & Associates – to design the Village. Bal Harbour and Coral Gables are the only Miami-Dade municipalities that were built with a fully conceived master plan in place.