Miami Beach: Luxury Beach Living Year Round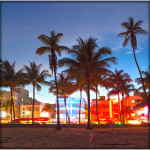 Miami Beach is seen as a trend-setting arts and entertainment Mecca, and a shopping and cultural wonder by visitors, world travelers, celebrities and locals alike. Miami Beach has always been a tourist-friendly vacation hot spot, but the city offers so much more now. Miami Beach is no longer just a place to lay on the beach soaking up the sun, due to an economic boom that has sprung from the refurbishment of the Art Deco Historic District.
From café's, clubs and shopping along South Beach's Ocean Drive, Lincoln Road, and Washington Avenue; the international hotels and restaurants of Collins Avenue and Middle Beach; to the re-emerging neighborhood in North Beach, Miami Beach offers visitors and residents a dazzling array of amenities to enjoy.
Ritz Carlton Miami Beach | 2016