The Historic Fort Lauderdale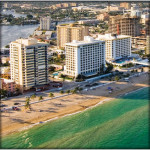 The City of Fort Lauderdale is situated on the southeast coast of Florida, in the east-central portion of Broward County, approximately 23 miles north of Miami and 42 miles south of Palm Beach. The City shares boundaries with nine other municipalities, as well as unincorporated areas of the County. Encompassing more than 33 square miles, Fort Lauderdale is the seventh largest city in Florida and the largest of Broward County's 30 municipalities.
Fort Lauderdale truly lives up to its designation as the "Venice of America." An advantageous economic climate is helping the City of Fort Lauderdale establish itself as a world-class international business center and one of the most desirable locations for new, expanding or relocating businesses. Once known strictly as a tourism-based economy, Fort Lauderdale now supports a diverse range of industries, including marine, manufacturing, finance, insurance, real estate, high technology, avionics/aerospace, film and television production.
Fort Lauderdale also offers an outstanding quality of life, highlighted by a semi-tropical climate, rich natural beauty and array of cultural, entertainment and educational amenities. Blessed with over 3,000 hours of sunshine each year and pleasant year-round ocean breezes, world-famous Fort Lauderdale Beach offers premier opportunities for recreation, relaxation and enjoyment.
3030 NE 188th Street
45
Intracoastal
2851 NE 183 Street
305
Intracoastal and City
3001 NE 185th Street
193
Bay and City
3001 NE 185th Street
235
Intracoastal
21200 Point Place
125
Ocean & Intracoastal
21150 Point Place
168
Ocean & Intracoastal
21050 Point Place
158
Ocean & Intracoastal
3131 NE 188th Street
119
Bay and City
3340 NE 190 Street
126
Ocean, Bay & Intracoastal
3330 NE 190 Street
252
Ocean, Bay & Intracoastal
6000 Island Blvd
210
Ocean, Bay & Intracoastal
4100 Williams Island Blvd
70
Ocean, Bay & Intracoastal
18181 NE 31 Court
592
Ocean, Bay & Intracoastal
18031 Biscayne Blvd
660
Ocean, Bay & Intracoastal
20355 NE 34 Court
400
Ocean, Bay & Intracoastal
3000 NE 188 Street 39
39
Ocean, Bay & Intracoastal
3675 N Country Club
216
Ocean, Bay & Intracoastal
Flamenco Tower | 1980 3701-3731 N Country Club Drive 394 Ocean, Bay & Intracoastal
Hamptons South | 2004 20201 E Country Club Drive 250 Ocean, Bay & Intracoastal
Hamptons West | 1984 20281 E Country Club Drive 342 Ocean, Bay & Intracoastal
Harborside | 1991 3640 Yacht Club Drive 180 Ocean, Bay & Intracoastal
Hidden Bay | 2000 3370 Hidden Bay Drive 371 Ocean, Bay & Intracoastal
Landmark | 1990 20185 E Country Club 187 Ocean, Bay & Intracoastal
Marina Tower | 1982 19500 Turnberry Way 160 Ocean, Bay & Intracoastal
Mediterranean Village | 1989 3700 Island Blvd 40 Ocean, Bay & Intracoastal
Mystic Pointe 100 | 1988 19195 NE 36 Court 300 Ocean, Bay & Intracoastal
Mystic Pointe 200 | 1989 19101 NE 36 Court 353 Ocean, Bay & Intracoastal
Mystic Pointe 300 | 1989 3600 Mystic Pointe Drive 309 Ocean, Bay & Intracoastal
Mystic Pointe 400 | 1990 3500 Mystic Pointe Drive 320 Ocean, Bay & Intracoastal
Mystic Pointe 500 | 1991 3530 Mystic Pointe Drive 483 Ocean, Bay & Intracoastal
Mystic Pointe 600 | 1991 3400 NE 192 Street 251 Ocean, Bay & Intracoastal
North Tower at Point | 1997 21205 Yacht Club Drive 288 Ocean, Bay & Intracoastal
One Island Place | 1991 3801 NE 207 Street 225 Ocean, Bay & Intracoastal
Parc at Turnberry | 2006 19400 Turnberry Way 110 Ocean, Bay & Intracoastal
Parc Central East | 2003 3300 NE 191 Street 350 Ocean, Bay & Intracoastal
Parc Central East | 2003 3300 NE 191 Street 350 Ocean, Bay & Intracoastal
Peninsula | 2004 3201 NE 183rd Street 223 Ocean, Bay & Intracoastal
Peninsula II | 2007 3301 NE 183 Street 230 Ocean, Bay & Intracoastal
Porto Vita | 2000 19955 NE 38 Court 375 Ocean, Bay & Intracoastal
Portsview | 1987 3610 – 3620 Yacht Club Drive 208 Ocean, Bay & Intracoastal
Prive Island | 2015 5000 Island Estates Blvd 160 Ocean, Bay & Intracoastal
Terraces of Turnberry | 1983 20191 E Country Club Drive 295 Ocean, Bay & Intracoastal
Terzetto Villas | 2008 2805 NE 185th Street 62 Bay and City
Turnberry Isle | 1980 19707 Turnberry Way 270 Ocean & Intracoastal
Turnberry on the Green | 2003 19501 W. Country Club Dr 377 Ocean & Intracoastal
Turnberry Towers | 1981 19355 Turnberry Way 318 Ocean & Intracoastal
Turnberry Village | 2007 20000 E. Country Club Dr 455 Ocean, Bay & Intracoastal
Uptown Marina Lofts | 2006 3029 NE 188th Street 216 Intracoastal
Venture | 2006 18839 Biscayne Blvd 540 Intracoastal
Village by the Bay | 1997 3225 NE 184 Street 374 Ocean & Intracoastal
Waterview | 1981 20505 & 20515 E Country Club Drive 198 Ocean & Intracoastal
Williams Island 1000 | 1990 1000 Island Blvd 319 Ocean & Intracoastal
Williams Island 2000 | 1995 2000 Island Blvd 284 Ocean & Intracoastal
Williams Island 2600 | 1997 2600 Island Blvd 172 Ocean & Intracoastal
Williams Island 2800 | 1990 2800 Island Blvd 159 Ocean & Intracoastal
Williams Island 3000 | 1989 3000 Island Blvd 185 Ocean & Intracoastal
Williams Island 4000 | 1985 4000 Island Blvd 180 Ocean & Intracoastal
Williams Island 7000 | 1998 7000 Island Blvd 299 Ocean & Intracoastal
Yacht Club at Aventura | 1994 19501 – 19999 E Country Club Drive 425 Ocean & Intracoastal