Explore Beautiful Aventura Florida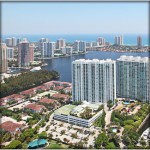 Aventura is a planned, suburban city located in northeastern Miami-Dade County, Florida. The city name is from the Spanish word for "adventure", and was named "Aventura" after one of the developers of the original group of condominiums in the area.
Aventura began its development during the early 1970s. The area was initially referred to as Turnberry and later became incorporated as Aventura in 1995.
The Aventura Mall, the fifth largest shopping mall in the US, is also located here and offers many luxury retailers such as Saks Fifth Avenue, Macy's and Tiffany & CO. to name a few.
Aventura is served by the Miami-Dade County Public Schools system. The Aventura City of Excellence School was for years the only public school located within the City of Aventura. It is a K–8 charter school that is sponsored by the city. The Aventura City of Excellence School is operated by a private charter school company called Charter Schools USA. It is an award winning school despite the fact that it was built and opened in 2003. The school was ranked in the top 10 of all schools in Florida in 2006.